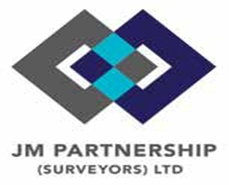 LATEST VACANCIES
Senior Project Manager :London and Southern Office
Project Manager : Midlands Office
At JMP we continue to provide a high-quality Building Control service to our clients.  This service is supported by our Company values of looking after our staff and ensuring that our business is developed in a sustainable way, without losing focus on the long term.
We are looking for a professional with commitment, enthusiasm and experience in Building Control to assist our current team, driving license is essential.  You will also be working on a variety of interesting projects.
In return, on top of a competitive salary, you will receive a benefits package including car allowance, company pension and 30 days annual leave.  We also provide inhouse CPD/structured training, as well as the opportunity to develop your talents and career in a flexible, friendly and forward-thinking company.
Please send your cover letter and accompanying CV to irene.dordain@jmpartnership.uk.com. 
If you wish to have an informal discussion, please contact Garry Goacher by calling 01903 236168 for the SPM role or James Worth on 01332 854694 for the PM role.


Welcome Steve Coppard to our Sussex Office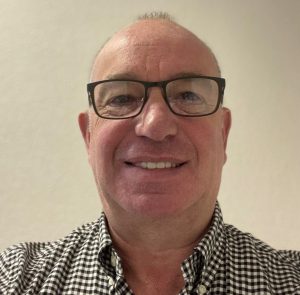 We'd like to offer a very warm welcome to Steve Coppard, who joins our thriving London and Southern Area Office as a Project manager. Steve is renewing his career in Building Control after a period of working for Rolls Royce as a Quality Specialist. Steve is quickly picking up from where he left off and will enhance the quality service offered to our many existing clients while also developing new business opportunities in West Sussex, Hampshire and up to London.

Welcome to Jonathan Lee and Mason Hennessy who join us in the Midlands Office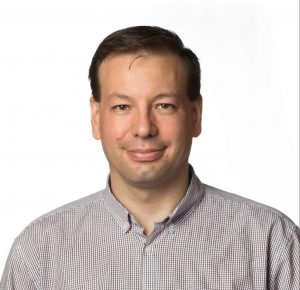 We'd like to offer a very warm welcome to Jonathan Lee, who joins our thriving Midlands Office as a Senior Project manager. Jonathan has been in Building Control for many years, having previously worked in both Local Authority and Approved Inspector sectors and is well known and respected in the industry. Jonathan will help to manage our many existing clients while also developing new business opportunities in Leicester and the south Leicestershire area.
Education and development are very important to us. We're pleased to announce Mason Hennessey, an Assistant Project Manager in our Midlands Office has started his Building Control Surveyor Degree Apprenticeship with the University of Wolverhampton. The four-year degree course covers all aspects of our profession and is seen as the best course of it's type, available to both Local Authorities and Approved Inspector employees. The course was an obvious choice to enable us to support Mason's development within our company.
We are always looking for talented Building Control professionals to join our team. Interested? Why not give us a call for a chat?

WE ARE ON THE MOVE!!!
From Monday 23rd November our new Head Office Address:
Suite 3
Peach Business Centre
8 Chestnut Avenue
Walderslade
Chatham
Kent
ME5 9AJ
Our phone numbers and email addresses remain unchanged.

Corona Virus JM Partnership (Surveyors) Ltd – Service Update 24th March 2020
Further to the latest government restrictions now being put in place and our previous update of the 18th March we can inform everyone that all JMP staff are now working from home in line with government restrictions.
Site inspections are continuing where appropriate and in line with Public Health England and industry guidelines.
All our employees can be contacted via email as per normal, and Project Managers and Surveyors are contactable on their company mobile phones.
We will continue to follow all government and industry advice and guidelines and maintain our service levels as best we can whilst protecting both clients and employees alike.
We look forward to continuing to work with you and hope that this crisis is not too prolonged. Stay safe!

Corona Virus JM Partnership (Surveyors) Ltd – Service Update 18th March 2020
We have been and continue to closely monitor the evolution of the Corona virus situation and would like to reassure our clients and employees that we are doing everything possible to maintain our service levels whilst protecting both clients and employees alike.
We are providing regular updates to all employees to ensure that necessary precautions are taken to protect themselves and our clients.
In compliance with Government guidelines the following measures have been put in place to limit the spread of the virus:
Increased hygiene processes across all offices.
Safety information posters in relation to Corvid 19 in all offices
All employees washing/sanitising hands regularly and practising safe distancing both in offices and on site.
Remote working for employees able to work from home.
Skeleton staff in offices to answer any phone queries and to take messages where appropriate.
All surveyors/subcontractors have been asked to familiarise themselves with specific client arrangements on site and to wash/sanitise hands between visits.
We are aware that due to travel restrictions and potential increased risk exposure, site inspections may become more difficult which is why we will also be adopting the use of technology to assist us in monitoring works via face time/video messaging where appropriate. This can be discussed on a project by project basis
Remote inspections will be carried out in accordance with CICAIR guidelines and all sites will be risk assessed by the Project Manager prior to this happening.
All employees are aware of the reporting process should they need to self-isolate or/and contract the virus.
All unnecessary travel cancelled and all meetings to be held using phone or with the use of technology/ teleconferencing etc.
We will continue to follow Government guidelines and adapt our procedures/processes/services accordingly.
We have/are and will continue to safeguard the welfare of our employees and clients whilst still providing and maintaining our services to clients throughout this pandemic in the most effective way that the Government guidelines allow us to.
We look forward to continuing to work with you and hope that this crisis is not too prolonged. Stay safe!

Starbucks – Carbrook Hall Sheffield
This is no ordinary Starbucks.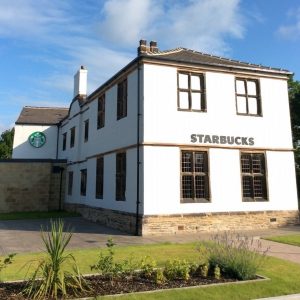 Carbrook Hall is a historic house in Don Valley, Sheffield. Formerly the listed building has been home to a public house. It has now been renovated and transformed into a Starbucks Coffee Shop.
The building retains most of its original features, ornate plaster ceilings, wood panelled walls, carved stone fireplaces and oven.
JM Partnership (Surveyors) Ltd Building Control Approved Inspectors has undertaken the Building Control function on the fit out of this building, helping our client achieve Building Regulation compliance while still retaining the buildings historic features.
Are you planning a project on a historic or listed building?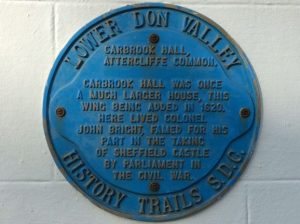 Why not contact us and see how we can help.
#compliancewithconfidence #starbucks #buildingcontrol #fitout #approvedinspector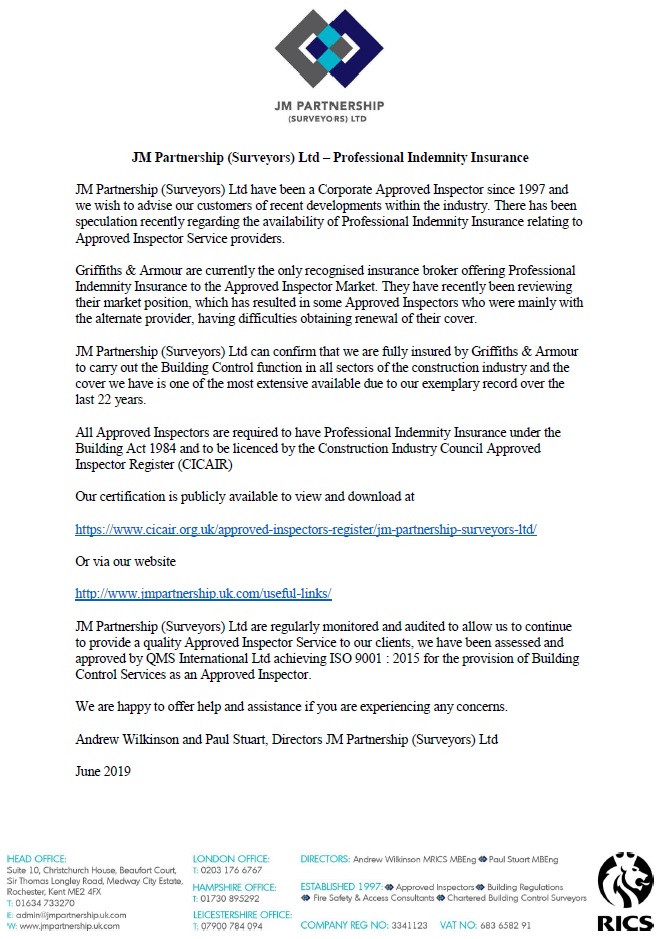 Our certification is publicly available to view and download at
https://www.cicair.org.uk/approved-inspectors-register/jm-partnership-surveyors-ltd/
Or via our website
https://jmpartnership.uk.com/useful-links/
June 2019

Marstons – Clacton-on- Sea
Our Midlands office has recently completed the Building Control function on a project in Clacton-on-Sea for Marstons.
The Smugglers Cove is a brand new Marstons Carvery and 38 Bedroom Hotel constructed by our client Barnes Construction Ltd.
As always, we've worked closely with our client to help them deliver a fully Building Regulations compliant finished product.
#compliancewithconfidence
31st May 2019

RICS Award – Sevenoaks School
JM Partnership Building Control Surveyors are delighted that the recently completed project at Sevenoaks School Science and Technology Centre that we provided Approved Inspector services for has been shortlisted for the RICS Awards South East in two categories – 'Community Benefit and 'Design Through Innovation'
Congratulations to Tim Ronalds Architects and everyone involved in this scheme.
#compliancewithconfidence
5th March 2019

Venture Studios – Ratby
It has been great to see an old Co-op in Ratby, Leicestershire be transformed into a modern studio for Ventre Studios.
JM Partnership (Surveyors) Ltd has worked closely with the designer and client to provide a great workspace for their business that also meets the current Building Regulation requirements.
Designer: Halford Jones Architecture Ltd
Planning a similar project? why not contact your local JMP office ti see how our Approved Inspector Service can help you with Building Control compliance.
#compliancewithconfidence
5th February 2019

ACAI responds to parliamentary committee session on building regulations.
http://www.approvedinspectors.org.uk/acai-responds-to-parliamentary-committee-session-on-building-regulations/

CPD – Mark Hillier
Our CEO Mark Hillier has delivered another interactive CPD discussion about changes to the Building Regulations and the future of Building Regulations/ Hackett report for our clients Morgan Carn Architects.
#compliancewithconfidence

Remodelling Dwelling House Leicester
JM Partnership's Midlands office have just carried out the final inspection on this little beauty. A very tasteful remodelling of an existing dwelling in Leicester.
The attention to detail on this project is astounding and reflects well on the skilled trades people involved.
Architect: David Granger Architectural Design Ltd
Our Building Control service covers all sectors in the construction industry, and we operate across the whole of England and Wales.
#compliancewithconfidence
24th January 2019

Craig & Rose London
We have recently undertaken the Building Control function on a project to create a new store for the UK's oldest pain manufacturer.
Inspections were undertaken by Alvaro Arturo Quesada Perez from our London Office, whilst the project was managed from our Midlands Office by James Worth.
Client/Designers 101 Consultants Ltd
#compliancewithconfidence
24th January 2019

L'Occitane Westfield White City
As always it has been a pleasure to work with our client 101 Consultants Ltd on the new L'Occitane En Provence store at Westfield White City.
Our Midlands Office provided the Building Control function on this project, with site inspections undertaken by Alvaro Arturo Quesada Perez from or London Office.
Planning a similar project? Then contact your local JM Partnership (Surveyors) Ltd Approved Inspectors office to see how we can help.
#compliancewithconfidence
24th January 2019

Circle Concierge Leicester
JM Partnership (Surveyors) Ltd were appointed as the Building Control body for refurbishment and alterations to the lobby area at the Circle Concierge New Walk, Leicester.
Architect/PM: Gabrielle Omar – Spot this Space
Client: Places for People
15 January 2019

Lutterworth Fire Station
JM Partnership (Surveyors) Ltd – Building Control Approved Inspectors undertook the final inspection on an extension and alterations to Lutterworth Fire Station to house a kitchen, crewroom, locker room and offices.
Over the years James Worth of the Midlands Office has had the pleasure of being the Building Control provider on many projects for Leicester Fire & Rescue Service, from small alterations through to complete new Fire Stations.
Client and Designer : LFRS
James can be contacted on 01332 854694 / 07900 784094
#compliancewithconfidence
09 January 2019

Happy New Year 2019
As we welcome in the new year, here is a view of the early morning January sunrise from our offices in Rochester, JM Partnership (Surveyors) Ltd are looking forward to an exciting and busy year ahead.
We welcome new building control project enquiries, and all of our offices have professional and approachable staff to assist you through the building control compliance process.
For more information about our Approved Inspector Service please call one of our team who will be happy to advise you.
Rochester Head Office: 01634 733270
Sussex: 01903 236168
London 0203 176 6767
Midlands 01332 854694
1 January 2019

Merry Christmas and a Happy New Year from all at JM Partnership (Surveyors) Ltd
Our offices are closed on Monday 24th December 2018 and we re open on Wednesday 2nd January 2019.

25 December 2018

Empiric Student Accommodation – Falmouth
JM Partnership (Surveyors) Ltd Approved Inspectors CEO Mark Hillier and Building Control Project Manager Angela Simpson paid a visit to Falmouth in Cornwall for our client Empiric Student Propert Plc this week.
The site is for a new purpose built student accommodation providing 190 beds in 4 bed maisonettes and 6 bed town houses.
At the time of the visit Building Control Surveyors Mark and Angela inspected ongoing foundations, drainage installation, sub structure and ground floor structure including Radon protection.
Our Approved Inspector Service covers all construction sectors across England and Wales, if you would like to discuss building control compliance on an upcoming project please give one of our offices a call
London 0203 1766767 : Head Office Rochester 01634 733270 : Sussex 01903 236168 : Midlands 01332 854694
4 December 2018

Alvaro Quesada Perez – First Month Approved Inspector Building Control
" I am a Spanish Technical Architect with a background of almost twenty years within the construction industry between Spain and United Kingdom. I have now more than three years' experience in Building Control including Local Authority and the private sector what I believe now gives me an accurate perspective about different agents within the industry.
After 1 month working for JM Partnership (Surveyors) Ltd, I have discovered this company has a really good portfolio of clients but more importantly it has a solid management structure which really believes in people, including every single one within the building control process.
This company has proved to me until now that a business is set to make a profit but without human factor you cannot achieve or deliver what you are meant to. JM Partnership (Surveyors) Ltd has offered me what has been the best training in just one month of being here than I have had anywhere over my last three years in the building control industry.
Technical support through the company including admin, surveyors, managers and directors is outstanding and you see straight away that after many years of experience delivering building control, they are still with their feet on the ground trying to keep the best quality service. So far I am very happy to be part of this company and hoping that I will continue to develop."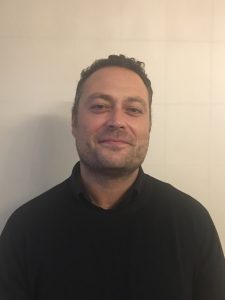 Welcome Lesley Simpson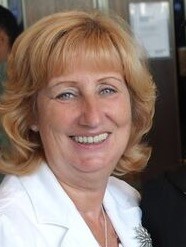 JM Partnership (Surveyors) Ltd welcome Lesley Simpson to our London Office team. Lesley is an experienced Building Control administrator having previously worked in a Local Authority environment. Lesley will assist Garry Goacher and his team of Building Control Surveyors.
If you would like to find our more about our Approved Inspector Services please give Lesley a call and she will put you in contact with one of our Building Control Surveying team who will be happy to help. Welcome on board Lesley.
14th November 2018

Rochester Team Building Day
Our Rochester office staff pitted their wits against each other in their latest team building event, 'Capitan' Alvaro guided his crew to successfully solve clues and puzzles to retrieve Mr Brenchley's stolen diamond collection, meanwhile Captain Michaela and her team were kidnapped and locked away in the Laughing Lair and had to escape against the clock! – Both teams manged escaped before they got 'locked in'
Thank You to Escape Hub and Gaab Kao Thai Maidstone for hosting.
14th November 2018

New Staff – Alvaro Quesada Perez

We would like to warmly welcome Alvaro Quesada Perez or 'Al' as he likes to be known amongst friends and colleagues. Al has previous experience in Building Control both in Local Authority and Approved Inspector service sectors.
Al will be working with our London Office Team as Project Manager, our London Office is under the management of Garry Goacher.
If you would like some advice on Building Control Compliance or to discuss a new project, please give Garry a call and they will be happy to talk to you about our services.
15th November 2018

Congratulations to Company Director Andrew Wilkinson
Company Director Andrew Wilkinson has reached a massive milestone of 20 years service at JM Partnership (Surveyors) Ltd – Building Control.
Mark Hiller CEO, presented Andrew with his long service award on behalf of employees during the annual company conference held at The London Bridge Hotel.
Andrew said "It was a great day and what a memorable way to commemorate my 20 years at JMP with great staff and a few beers"
16th October 2018

Well done to Georgia Cox of our Worthing Office for completing her BSI ISO 9001:2015 Internal Auditor training and obtaining a Diploma in Office Administration.
Diploma in Office Administration:
The Diploma in Office Administration teaches you about business reports and letter writing, e-mails writing tips, typing speed development, tips for speed reading, Microsoft word, Excel, PowerPoint, Outlook, Access, Diary management, handling confidential documents, successful meeting minutes, note taking, document proofreading, appointment booking and arranging interviews, delivering postal mail, dictating, customer service and telephone handling skills, organising a meeting, data management, record keeping and filing, event planning, arranging business travel and accommodation, bookkeeping, QuickBooks for payroll management, invoicing/petty cash, supervising and monitoring office works, time management, motivating employees and creating an effective CV and cover letter.
I encourage everyone who works as an Admin to take this course as it gives a complete understanding of how to be the best admin possible and it also teaches you more about finance, Microsoft, bookkeeping and the general workings of a business run on customer focus.
ISO 9001:2015 internal auditor training course:
The course helped me understand how to prepare, conduct and follow-up on ISO 9001:2015 audit activities; identify and apply the benefits and requirements of an ISO 9001:2015 audit; gain the skills to assess an organization's capability to manage its QMS; and write factual audit reports and suggest corrective actions. I also learnt about guidelines of management system auditing according to ISO 19011:2011; application of auditing guidelines to ISO 9001:2015; initiating, preparing and conducting audit activities; preparing and distributing the audit report; and completing audit and follow-up.
I really enjoyed this course as it allowed me to understand the standard JM Partnership follows. Thanks to this course, I feel I can adequately help the company improve customer focus and reach its desired quality management level.
29th June 2018

CEO's 25 Year Building Control Journey – 10 Years at JM Partnership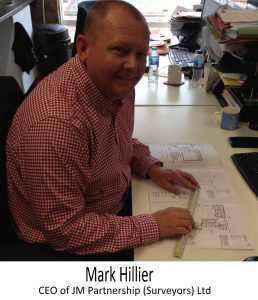 This year is my 10th at JM Partnership, a company that has now been around for 21 years and has completed over 20,000 projects in the UK. This is also my 26th year in Building Control and I have seen many changes to the guidance and legislation with the introduction of accessibility, water efficiency, security, communications, as well as energy conservation amongst others. Expectations of understanding the complex myriad of primary and secondary guidance, British Standards and technical information has added a new dimension to how we train and monitor our staff but the job is still fundamentally the same. I still remember my first chief at local authority telling me that the job was all about Health, Safety and Welfare in an about buildings, more simply put in layman's terms which was easy for me to understand as a young lad was ' to prevent it falling down, burning down and ensuring the drains flowed down hill'.
The added expectations of compliance since my early days with the Local Authority have meant an increased level of learning for our staff who often have to be trained on the job as there are very few direct relevant qualifications to the career path. ONC and HNC construction do give a background as does a surveying degree, it certainly opens your mind to learning but when you do finally get stuck in to live projects the complexity and diversity can sometimes be overwhelming.
I still try to simplify the core role of our profession to simple, easy bite size expectations when we are training new staff so that they don't get too bamboozled with all the information they have to take on. I try to get them to visualise and discuss what we would expect of a safe built environment and then discuss the requirements and guidance to help us break through so much of the overlapping and sometimes contradictory Information.
When I first started in building control, the expectation was that the designer would send us a full plans to cover the work and we would approve or reject if it was not compliant. Life was simpler, but I always felt that I wanted to deliver more and be part of the solution not the problem. I always approached my plan checking and site inspections with a view to giving as much help as possible and alternative solutions but stop short of designing. When the option of working for an Approved Inspector arose, I had the opportunity to be able to get involved with schemes at the earliest stages of design and give best advice on compliance which has become even more important over the years as the complexities of meeting the requirements has increased. I have been Chief Executive at JM Partnership (Ltd) for two years and one thing that has become apparent is that the pressures of the job have increased and expectations of our staff are much greater from our clients. This is making it harder to recruit and retain staff who feel that the responsibility is too great or the demands too high. We as a company have had to fight hard to keep competitive over the years regarding fees despite the reliance and expectation on us to help with meeting compliance increasing . We have taken the decision at JMP to fight this tendency to reduce our fees as it is essential we retain, train and motivate our highly qualified surveyors to keep their experience within the profession and still deliver to the clients high expectations. Also we need to stand by a clear level of service for each and every project and to ensure that that service is delivered to the best of our ability. This may mean we lose work as we are not the most competitive but I would rather work with clients who want a better level of service and work with motivated and well trained\supervised staff.
I still love the cut and thrust of the job and the challenges of delivering a cost effective, quality, customer focused service are now at the forefront of my mind rather than the project management role, but one thing is clear, it's a team effort and JM Partnership's surveyors are a motivated bunch. I want to be able to retain, train and develop them to continue to help our clients through the complexities of the building regulations requirements and application of the guidance and supporting standards. This means realistic fees for the level of service that we will provide.
I look forward to helping develop the company in the next few years and there will be a number of challenges including the inevitable changes in guidance and legislation. One of the big questions that will arise is qualification and competency of staff and we as a company already embrace the need to ensure that we have the resources and suitably qualified staff to deliver the service to our clients.
I am proud of the journey that JM Partnership (Surveyors) Ltd and its staff have taken over the past few years. Growth and change have meant the team have had to face new challenges, working practices as well as developing new teams.
I hope those of you who are regular customers have benefited from our changes and we would look forward to continuing to develop our relationships over future projects. For those of you who do not currently use JM Partnership (Surveyors) Ltd, why don't you give us a try and contact one of our regional managers for a chat.
Onwards and upwards and here's to the next 20 years of JM Partnership.
18th May 2018


Staff Recognition
Our Building Control Technical Coordinator Natalie Sanders writes – "Always great to work for a company that regularly takes care of its staff. JM Partnership (Surveyors) Ltd Rochester Team had an enjoyable afternoon dining at Brettingtons, a superb steak and lobster house, then a visit to the Cathedral and Castle"
Here at JM Partnership (Surveyors) Ltd we are proud to have such enthusiastic staff members.
We believe that rewarding staff and not allowing hard work to go unmissed is key.
We like to go the extra mile for our staff as without happy hard working employees we would not be the company we are today.


15th May 2018

New Staff – Peter Bailey of the Midlands Office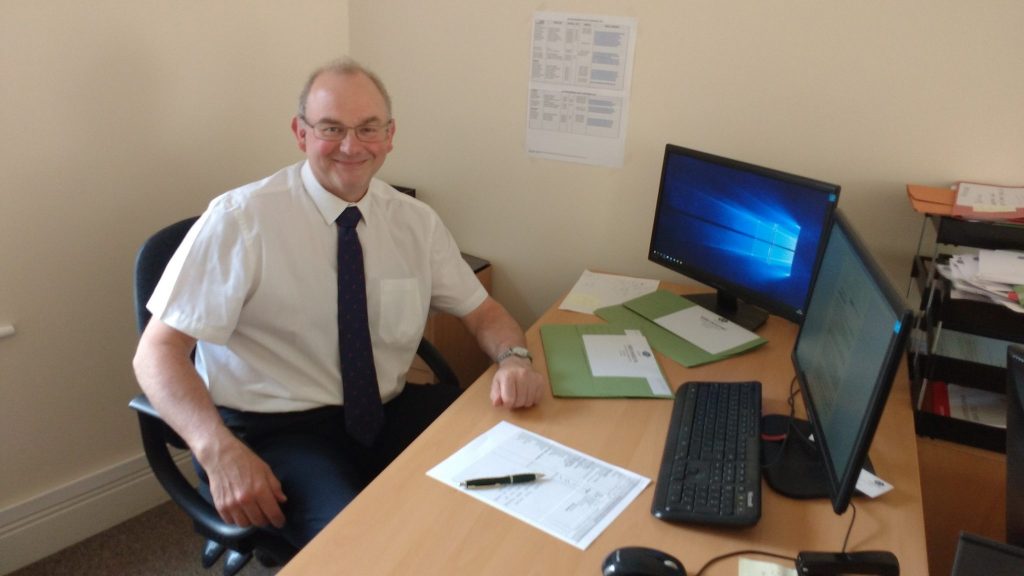 As our teams grow here at JM Partnership (Surveyors) Ltd we would like to welcome Peter Bailey Bsc MCIOB C. Build E MCABE to our company. Peter works from our Midlands office as a Project Manager. Our Midlands office is under the management of James Worth who is winning some interesting projects assisted by Anna Jackson and Peter. If you would like us to help you with your new projects please contact our office on 01332 854 694.
11th May 2018

Sussex Office Projects
The two-year long project for our Sussex office at Eastbourne College is now coming to a close. Working with Miller Bourne and Vinci contractors, JMP have been involved in the project from pre-tender through to completion, giving advice on compliance and fire safety from the outset. Compliance on the scheme was delivered by Mark Hillier, Angela Simpson and Garry Goacher.
Comprising of sports hall, squash courts, swimming pool, dining hall, teaching spaces, multi-function rooms and an atrium this was a complex and interesting project which JMP were proud to have been part of.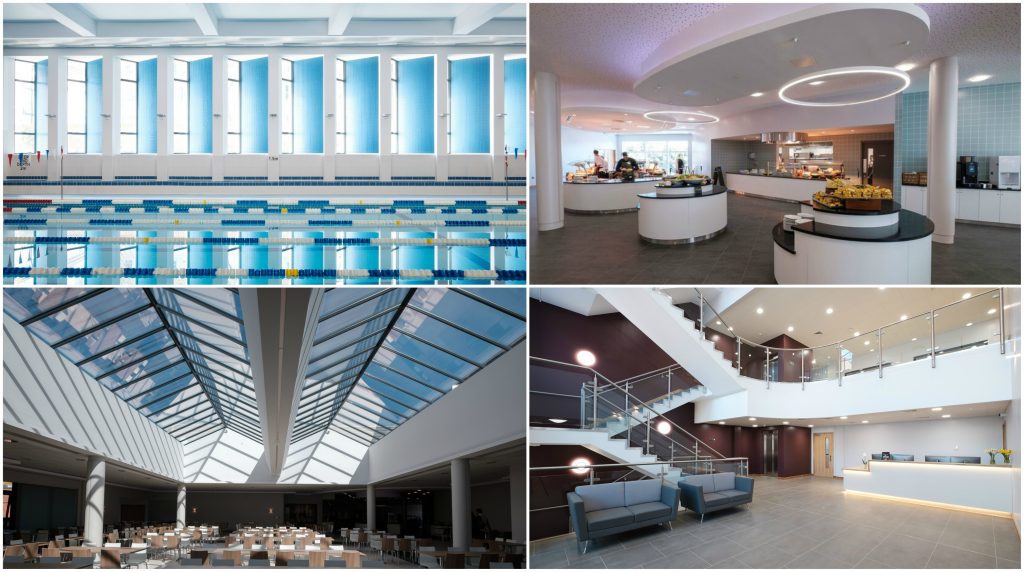 04th May 2018

Focus on Fire Safety post Grenfell
As expected we have received from the DCLG a circular asking that we consider carefully the findings of the recent Dame Judith Hackitt's 'Interim Report of Building Regulations and Fire Safety, Building A Safer Future' which was published on 18 December 2017.
The Interim Report included several recommendations for Government and industry to act upon now to contribute to the provision of safer buildings. Below is a summary of those recommendations taken from the report and a brief comment on how JM Partnership (Surveyors) Ltd approaches these issues and advice to our clients.
Sadly the reality is that we often get insufficient detail early enough on schemes submitted for us to ensure a smooth process of checking, consulting, advising and inspecting of fire safety items for projects which often results in project overspend, delay or omissions and justification of Fire Safety elements that were reasonably foreseeable. We can only give our best advice where suitable information is provided at the earliest opportunity or where we can be involved pre-planning or pre-tender. Also the Fire Authority's will often return a consultation with no comment if they feel that there is insufficient information even if we have as a company been diligent in seeking an opinion at an early stage with information that we have been provided in an effort to get a timely response.
The full text of the Interim Report is available at:
https://www.qov.uk/qovernment/publications/independent-review-of-buildinq-requlationsand-fire-safety-interim-report
As a result of the report the consultation process between the Building Control body and the Fire authority has come into focus and interim recommendations resulting from this have been tabled.
At present we as the Approved Inspector have a duty to consult the Fire Authority on relevant projects where the Regulatory Reform Fire Safety Order applies, and we are required to take due regard of their comments. We cannot give a plans certificate or issue a final certificate until this process has taken place and consultation concluded. The guidance relating to this process can be found: http://webarchive.nationalarchives.gov.uk/20150729071113/http://www.planningportal.gov.uk/uploads/br/BR_PDFs_firesafety.pdf
Interim Recommendations for Building Control System
The recommendations relevant to the building control system are as follows:
'Consultation by building control bodies and by those commissioning or designing buildings should take place early in the process and fire and rescue service advice should be fully taken into account. The aim should be to secure their input and support at the earliest stage possible so that fire safety can be fully designed in'
JMP aim to do this on every project where possible but this relies on the clients providing sufficient information to us at the earliest possible stages, good scale drawings, fire strategy approach, design ethos, codes and standards followed etc. Some of the Fire Authorities, especially where fire engineered approaches are required may take 14 weeks plus to get a response on consultations. The earlier JMP get the information the less likely there will be potential hold ups and delay on the schemes.
'There is a need for building control bodies to do more to assure that fire safety information for a building is provided by the person carrying out the building work to the responsible person for the building in occupation. Given the importance of such information for on-going maintenance and fire risk assessment, proof should be sought that it has been transferred'
Regulation 38 has existed for some time and it is part of the JM Partnership (Surveyors) Ltd plan review to include a request for information on how the Regulation 38 is to be satisfied. Guidance on the type of information that should be handed over to the client is contained within the Appendix of Approved Document B.
Building developers need to ensure there is a formal review and handover process ahead of occupation of any part of a new high-rise residential building. While there are legitimate reasons to allow occupation in a phased way, the practice of allowing occupancy of buildings without proper review and handover presents barriers to the implementation of any remedial measures identified as part of the completion process.
At JMP we have a robust pre-completion checklist to help developers deliver relevant information to us for checking in a timely fashion prior to completion so that we can ensure that if part final certificates are required we should be able to work with the developer to ensure that the Building regulations have been satisfied and Fire Safety elements have been inspected, tested and commissioned accordingly.
Whilst responsibility for compliance with the requirements of the Building Regulations rests with the person carrying out the work, JMP always want to assist the client to the best of its ability to achieve compliance in a timely and helpful fashion. The process can be aided to successful conclusions with the provision of suitably detailed information at the earliest possible stages of the project.
If you would like to talk to us about early advice or even feasibility studies which will help aid your team identify key potential issues and save time and effort down the track. Please do not hesitate to contact any of our office managers.
Garry Goacher – e: garry.goacher@jmpartnership.uk.com t: 07881 414 087
Ed Hagan – e: ed.hagan@jmpartnership.uk.com t: 07900 784 175
James Worth – e: james.worth@jmpartnership.uk.com t: 07900 784 04
Andrew Wilkinson – e: andrew.wilkinson@jmpartnership.uk.com t: 07887 506 514
16th March 2018


Promotion

for Ed Hagan – New Regional Manager of the London Office
We are delighted to announce that Ed Hagan has been appointed as our New London Office Building Control Manager.
Ed joined us from Carillion Specialist Services in August 2017 and has established himself quickly at JM Partnership (Surveyors) Ltd under the guidance of Mark Hillier the company CEO (Chief Executive Officer), it is part of our ethos here at JM Partnership (Surveyors) Ltd to offer training and advice in order for staff to reach their full potential.
Ed has a wealth of experience in the Building Control and construction Industry , having also previously worked in private and public sectors. Ed is now heading up his own team of Surveyors working on a diverse and exciting portfolio of projects.
If you would like to follow in Eds footsteps and join a forward thinking Building Control Surveying Practice where staff are well supported by the Company Directors, we would like to hear from you at hr@jmpartnership.uk.com or you could call our London Office on 0203 176 6767.
For further information about opportunities at JM Partnership, please visit JM Partnership (Surveyors) Ltd Opportunities.
02nd February 2018

New Regional Manager – Garry Goacher of the Sussex Office

JM Partnership (Surveyors) Ltd welcome Garry Goacher to our team of experience Surveyors, Garry is our new Regional Manager based in our Sussex Office.
Garry's career in the construction industry started over 44 years ago as a Trainee Quantity Surveyor however, realising this was not for him he moved in to Building Control in 1977 and now has over 40 years' experience in this sector.
During this time, he has held most positions and his experience extends to major projects, management and strategic leadership. Many of his project management skills were learnt in the relatively early years as Building Control Surveyor and Landlords representative on Brighton Marina.
Before joining the JM Partnership (Surveyors) Ltd in early January 2018, he managed a variety of services within Local Government which included Building Control. This role further developed his Leadership and Commercial skills.
As a Chartered Building Surveyor his professional passion remained with Building Control and he has said he is "delighted to have secured the position of Regional Manager with the JM Partnership (Surveyors) Ltd", a position that allows him to make best use of his Building Control experience. Garry specialises in team development for professional excellence and customer satisfaction and he has said "I am looking forward to the next phase of my career in the private sector as a member of the highly professional team at JM Partnership (Surveyors) Ltd".
If you have a new building project in the South of England. Garry is available to discuss our Approved Inspector Service on 01903 236 168.
22nd January 2018

New Staff – Jasmine Davie of the London Office

We would like to introduce you to and welcome our latest Office Junior Jasmine Davie.
03rd January 2018

JM Partnership (Surveyors) Ltd – Staff Conference day

Great to see our staff at our 2017 conference at the London Bridge Hotel. A round up of the year, a look ahead at 2018 and the possible challenges ahead as well as an update on Fire Safety in high rise buildings.
01st December 2017

New Staff – JM Partnership Head Office

We would like to introduce you to and welcome our latest Finance Manager Nicky Chatfield and Site Surveyor Jamie Larkin.
21st November 2017

JM Partnership (Surveyors) Ltd days out
JM Partnership (surveyors) Ltd treated their staff to a day out in the sun. Each office chose a different location and different activity to improve the Team Dynamic.
Our Head office chose the close to home location of The Historic Dockyard Chatham, this enabled our Company Director – Paul Stuart – to show of The Command of the Oceans to the rest of the office following on from us issuing our Final certificate and the Building winning numerous awards.
Whilst at the Dockyard our Head Office also made sure to take full advantage of all the Historic Exhibits such as the HMS Cavalier and The Victorian Ropery.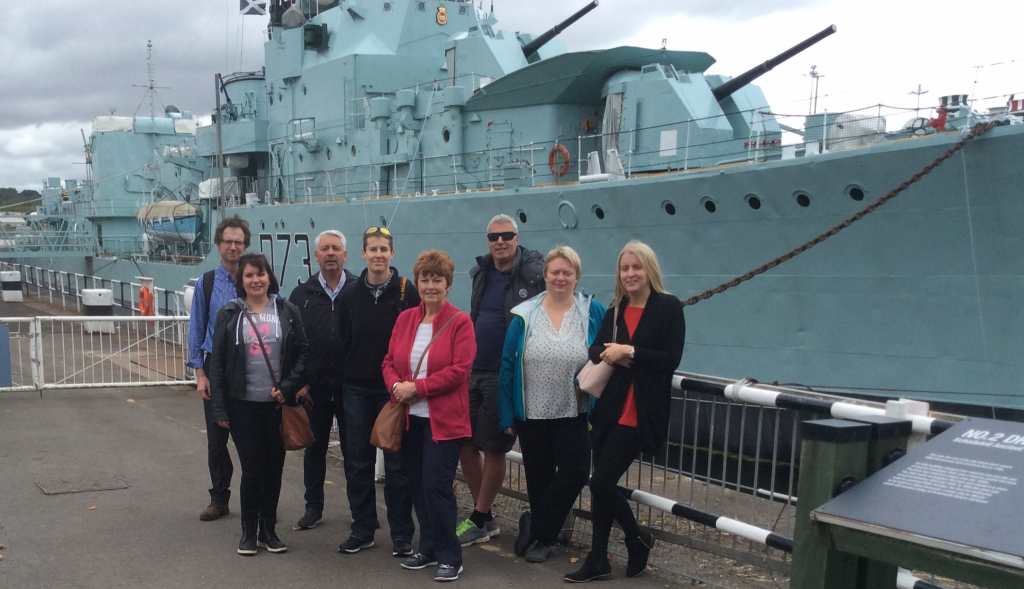 The JM Partnership London Office had a slightly different educational day out at London Zoo where Adam John – Assistant Project Manager – could show his colleagues the Building Works he signed off within the Zoo.
During the visit the London office also got to experience amazing sights such as lion and penguin feedings.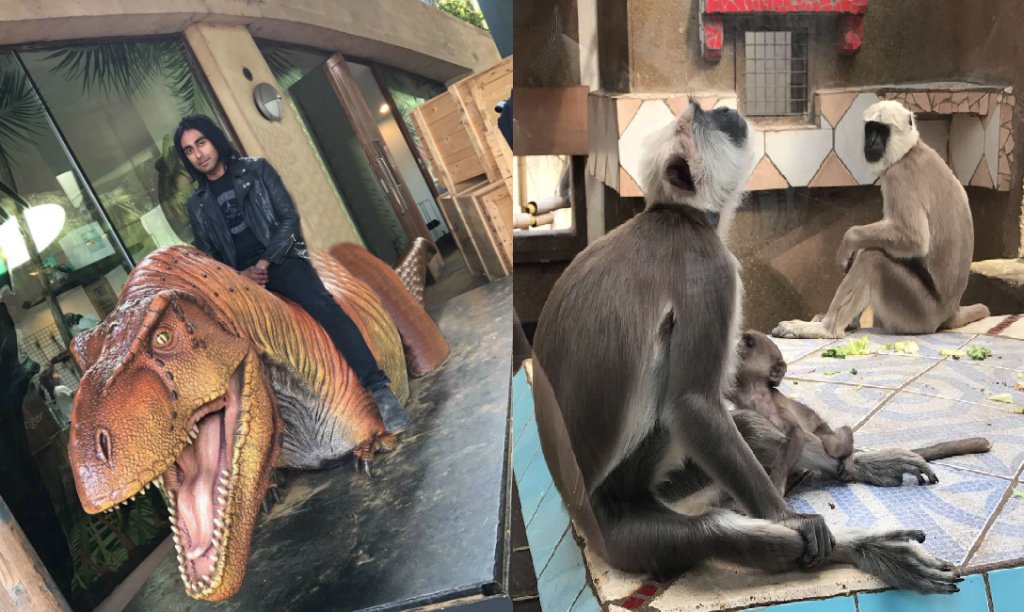 The JM Partnership Sussex Office enjoyed a day out in the pouring rain, visiting Arundel Castle, one of the nicest and most popular landmarks in West Sussex.

25th October 2017

New Staff – Thomas Horan of the London Office

We would like to introduce you to and welcome our latest Assistant Project Manager Thomas Horan.
21st August 2017

JM Partnership Celebrate Natalie 15 years of employment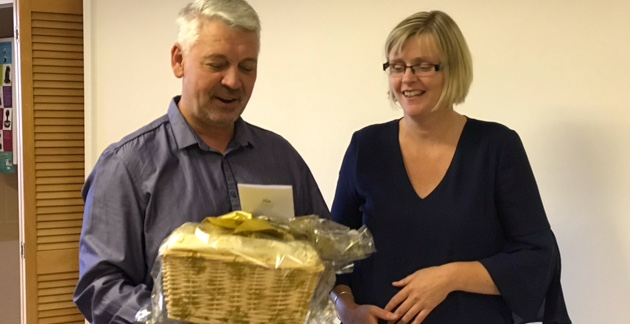 It is always nice to give staff a little recognition for service as JM Partnership (Surveyors) Ltd – Building Control Approved Inspectors congratulate Natalie Sanders on 15 years of employment.
01st August 2017

Transition from Local Authority to Approved Inspector, the first year


By Anna Jackson
After working for 13 years in Local Authority Building Control, I felt like it was time to move on. The politics within the working environment had made me feel disillusioned with my career and almost feeling the need to change direction. However it would be unfair to allow 6 years of study and experience go to waste.
After chatting to an ex-LA colleague about the possibility of moving into private Building Control aka the 'Dark Side' (a term we had jokingly referred to previously), we met up along with one of the JMP Directors for an informal chat. Two and a half hours later and I knew that moving to the 'Dark Side' was a step in the right direction and much to my relief would mean no more 24 call out for dangerous structures!
There is a perception in LA Building Control that those working the private sector don't do inspections, and carry out plan checks, and that builders are allowed to do as they please. There is no shred of truth in that at JM Partnership (Surveyors) Ltd. The number of inspections I carry out is the same as LA and in addition specifications and plans are assessed accurately. Builders are expected to do the right job and are guided to do so.
After I had joined JM Partnership (Surveyors) Ltd (just over 12 months ago) I was given a wealth of support with regular calls from the Directors to see how I was settling in and offering advice/support where needed. This was different to LA so came as something of a shock! That support has not gone away and I feel reassured that should I need anything its only a phone call away.
The management team at JM Partnership (Surveyors) Ltd are good communicators. We are given regular honest updates about the business and offers of support and constructive comments to help us improve and develop the business. We are encouraged to develop our careers and offered the knowledge and training to do so. It was without a doubt the right move for me!
25th July 2017

Building Regulations Compliance and Fire Safety Good Practice in Buildings in the Wake of Grenfell


In light of the recent tragedy at Grenfell tower many questions are rightly being raised about not only the suitability of materials being used in residential low rise and high rise buildings and indeed any sleeping risk building. Questions are also being raised by clients about not just life safety but also about property protection and good practice. Whilst we cannot as a company comment on the possible causes and failures it is obvious that in the meantime our clients need some reassurance on what the Building Regulations and the guidance documents recommend. How to meet compliance and alternative routes to compliance need to be discussed. Also what evidence needs to be produced to show that the products and materials, as well as workmanship under Regulation 7 will deliver that minimum compliance.
Many questions are also being raised about the test methods and suitability of tests in certain scenarios. Also are the Building Regulations fit for purpose? It is not for us to comment on these issues at present and we can only reassure clients that until such time as the DCLG have the findings from the disaster and make recommendations we can only advise on how to meet the Regulations as they stand at present. We have also been involved in discussions with clients about good practice beyond the minimum standards which has included group discussions on life safety, stay put verses simultaneous evacuation, property protection, building management and fire risk assessment. It is important that we consider the fire safety of a building and its occupants as a whole strategy and not just individual parts and phases. We have also explored other key areas such as workmanship and what to check and look for during the construction process. Recently we chaired a meeting at Whittam Cox Architects, part of the WCEC Group to discuss some of their schemes and issues raised. Richard Hague, a Technical Director for the company commented:-
'Many thanks for giving up your time and coming up to our office today, given the current climate within the industry relating to external materials and fire protection following the Grenfell fire disaster we felt the discussion and points raised we very informative and gave us further clarity and comfort at this point. We will be advising our clients accordingly until such time the outcome of the investigation into to the fire and its wider effects are known and any changes to legislation are put in place'.
As a company we will be working with all our clients to help them understand the key issues relating to Fire Safety and compliance to continue to move forwards with schemes until such time further guidance of changes in legislation occur.
17th July 2017

JM Partnership (Surveyors) Ltd Commitment to Training


JM Partnership continues with its commitment to training and to bring new staff in to the profession, like Tim Larkin.
It seems that fewer people are coming into the Building Control Profession these days and finding staff with the right experience or approach is often difficult. Training courses specific for Building Control are limited and although the basic qualifications such as ONC and HNC provide a good stepping stone to qualification, the degree courses available now are not so much relevant to what we do but provide a corner stone to getting the recognised RICS or MCABE initials after your name.
So, it's down to us here at JM Partnership (Surveyors) Ltd to make sure that firstly all our staff at whatever level get the support and training they need and that we help them to progress up the promotion ladder and fulfil their career aspirations. Currently JM Partnership are sponsoring Adam John of the London office through his HNC and onwards to degree whilst undergoing mentoring and in-house training to ensure he gains the required skills set.
We have also recently taken on Tim Larkin who is very experienced with site based project management with a wide skill set. From health and safety to management of the construction process as well as site supervision, Tim has done it all. He admitted that his knowledge of Building Regulations was ok but needed a polish up!
Tim explains why he chose a career change.
To be honest I was fed up with the expectations and pressures of site work. Long days often starting at 5am and not finishing until 6 or 7pm at night. Often with little recognition and constant hassle on tight programmes and the spotlight on the cost. Value engineering everything and ending up with projects still over budget and delayed.
I always had an interest in the compliance side of the work and found the technology\construction process side more interesting that the contracts side. A chance came up to apply for a site inspector with JM Partnership (Surveyors) Ltd and I felt that with my experience and a little refresher I could be able to fulfil the role.
On commencement of work with JMP I had a comprehensive 3-week initial period of back to basics training where we looked at everything from the legislation involved to the approved documents and supporting information. I was taken out on site, monitored and coached through a variety of risk based inspections and my reports peer reviewed to help me understand areas on non-compliance with regards guidance in approved documents or regulation 7, materials and workmanship issues.
I realised that I was very rusty and needed quite a bit of a refresher to feel confident. Since my initial training I have been constantly monitored and supported and have also been on the ABE Building Control Certificate course to consolidate my learning.
I don't think I will ever understand everything but I feel confident that I can always ask questions of the team around me and learn from their experience. You never stop learning but what I enjoy is the professionalism and commitment of the JMP team of surveyors to helping clients understand the whole process and offer valued advice to achieve compliance. I don't regret my choice to change career. I have a flexible work environment with considerate management that allow me to get on with the job.
All staff within JM Partnership (Surveyors) Ltd have a skills passport where the company identifies the core skills necessary to carry out the roles from trainee to manager. These are regularly reviewed and staff are also audited and monitored on site to help gain knowledge of their competency and skills shortages. From this a CPD\training need can be identified.
07th July 2017

New Staff – Jenny of the Rochester Office
We would like to introduce you to and welcome our latest Finance Manager Jenny Huckell. Jenny has a wealth of knowledge in different aspects of Finance, she has worked in a variety of Managerial roles. Jenny will be located at our Head Office based in Rochester Kent. Good luck Jenny
26th June 2017

JM Partnership Employee Promotions – Adam John & Mark Seeley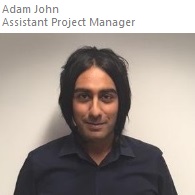 Really pleased to be sharing the recent success of Adam John in our London Office who after two years, hard work achieved not only a distinction at HNC but also a well deserved move up the ladder to Assistant Project Manager! Well done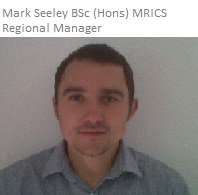 Well done to Mark Seeley who after 6 years with the company has progressed from Project Manager to Senior and now to Regional Manager in our Sussex Office! Well deserved
15th May 2017

JM Partnership Celebrate Michaela Lee's 15 years of employment

It is always nice to give staff a little recognition for service as JM Partnership (Surveyors) Ltd – Building Control Approved Inspectors congratulate Michaela Lee on 15 years of employment.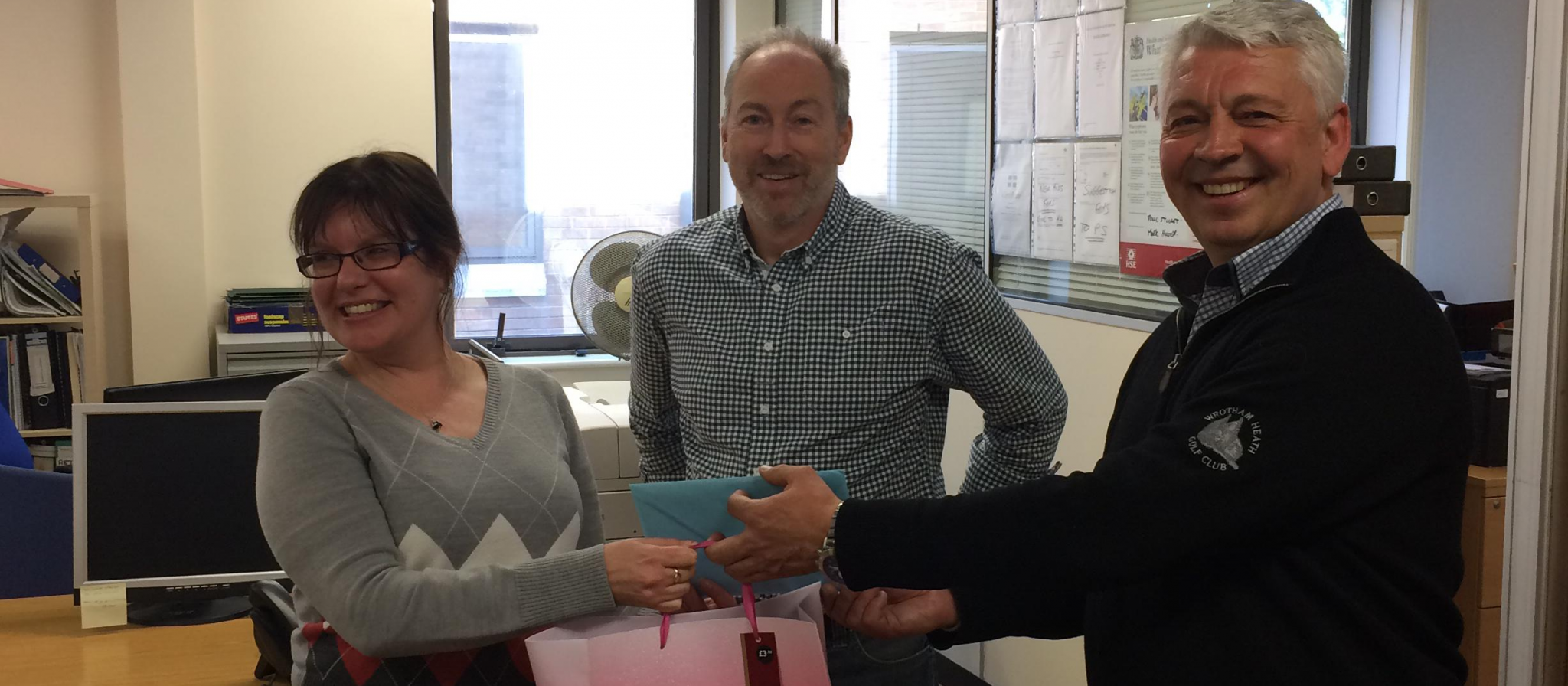 19th April 2017

JM Partnership (Surveyors) Ltd – New Website Launch of 2017


Here at JM Partnership (Surveyors) Ltd Building Control, our employees are all highly committed to maintaining and upholding our excellent company image. JM Partnership (Surveyors) Ltd Building Control, likes to motivate their staff by setting new challenges and involving them in new ways of promoting our business. During the course of 2016, JM Partnership (Surveyors) Ltd Building Control, brought together staff from each office utilising their skills and giving them the opportunity to come out of their comfort zone and create something to truly reflect our company with regards a website. JM Partnership (Surveyors) Ltd Building Control, have come a long way over our 20 years, enabling us to achieve an outstanding reputation.
Form this, JM Partnership (Surveyors) Ltd Building Control, are now pleased to announce the launch of our new interactive website with many features to ease the process for our clients. This fabulous new portal also showcases our work, company profile and success over the past 20 Years.
For more updates on our websites new interactive aspects follow us on our linked https://www.linkedin.com/company-beta/270664/. Visit our website at www.jmpartnership.uk.com.
"Incredible things are achieved when career and passion come together"
05th April 2017

ISO9001:2015

JM Partnership (Surveyors) Ltd Building Control, are pleased to announce that after a long audit we now are very proud to say we have achieved ISO9001:2015 standard with the help of QMS. Our staff have been brilliant and taken implementation in their stride! Well done to you all!
ISO 9001
23rd March 2017




New Staff – Tim Larkin of the Rochester Office
We would like to introduce you to and welcome our latest site Surveyor Tim Larkin who has been in the construction industry for the past 33 years and brings a wealth of construction and health and safety knowledge. Primarily site based and project management Tim has chosen a new career path and we are helping him re adjust his knowledge to one of compliance . Good luck Tim
24th February 2017

JM Partnership (Surveyors) Ltd 20th Anniversary Celebration


JM Partnership (Surveyors) Ltd celebrated our 20th anniversary on 24th February 2017, at the Imperial War Museum, in South London.
The event marked an important mile-stone in the Company's history and it was a chance for staff from all offices to meet up more informally and to catch up in person over a drink or two.
During the day, staff were treated to several Director CPD sessions, ranging from Quality Assurance and Client Care, to a technical presentation on asbestos by Simple Safety Ltd.
It was also an opportunity for staff, Natalie Sanders and Emma Smith, to demonstrate the new Company Website, which was officially launched at the event and was the culmination of a lot of hard work by both, with help from other members of the Marketing and Website team.
The only slight disappointment on the day was that our Chief Executive Officer Mark Hillier did not perform a fly past in his plane during the celebrations.
Speaking at the event, Company Director Andrew Wilkinson thanked staff for all of their hard efforts over the years, for their outstanding service to our Clients and for keeping the Company at the forefront of private sector Building Control.

20th February 2017

Part R News
Part R Effective 1st January 2017

The Requirement :-
Building work must be carried out so as to ensure that the building is equipped with a high-speed-ready in-building physical infrastructure, up to a network termination point for high-speed electronic communications networks. · Where the work concerns a building containing more than one dwelling, the work must be
carried out as to ensure that the building is equipped in addition with a common access point for high-speed electronic communications networks · Applies to the erection of a building · Major renovation works to a building.
Key Items:-
Must have provision from the service providers access point to the network termination point and the
system must be able to cope with broadband speeds greater than 30 Mbps.

01st January 2017