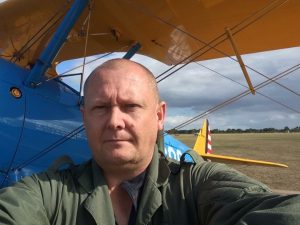 MARK HILLIER is a Chartered Surveyor who has been in the industry for over 25 years, working his way up from trainee through to board level. Starting at Local Authority Building Control and progressing on to work for both urban and rural authorities, giving a mix of work from listed buildings to new sports stadiums.
After moving to the Approved Inspector Industry, Mark branched out in to training and delivering CPD lectures throughout the UK on Building Regulations and Fire Safety. Mark is married with two children and lives in West Sussex.
He is also a qualified pilot, having flown for more than twenty-two years. Mark Currently flies a 1943 Boeing Stearman and a De Havilland Chipmunk from the former RAF Westhampnett, now Goodwood Aerodrome. He has also written six successful books on aviation Mark has also written numerous articles for Britain at War Magazine.